Anxiety is a good thing. It stops you from heading into dangerous or unusual situations. It is a normal reaction to things that we dread.  For example, as a teenager, I always felt anxiety before entering the exam hall. As an adult, I get anxious everytime I have to have a blood test – I just hate needles. I have known other people become anxious if they spot a spider within close proximity. Everytime I get anxious my mouth goes dry, my breathing increases and I feel light headed. Sometimes I sweat and I can hear my heart racing. But this is normally a short lasting period of panic.
There is nothing wrong with any of this. It's good and it's natural.
But what is life like when anxiety takes over everything?
Earth shattering legacy
I have given this some thought today. The only example I can give is that after an earth quake (depression) there is always an after shock (the anxiety). After having my personality shattered I then started to question what I knew or understood. This led to having anxiety about doing normal everyday things that I had previously taken for granted.
My anxiety gave rise to other psychological problems. Such as:
These feelings became a problem when they were too strong to deal with. My anxiety generally made my life difficult and making choices even harder.
Domestic abuse and anxiety
Following research, it has been established that sufferers and survivors of domestic abuse experience increased levels of anxiety. Living in constant stress or fear can indeed create a constant raised level of anxiety.
I always lived in fear of what I would expect to find when I got home from work. The above examples of how I felt (dry mouth, increased heart rate and so on) was often a characteristic of my journey home. However, I could also add the churning feeling inside my stomach. Once home, I would feel anxious about her ever-changing moods and behaviours. This anxiety was a result of living in fear. And this living fear became a habit which increased my anxiety and depression. And so, the constant cycle continued.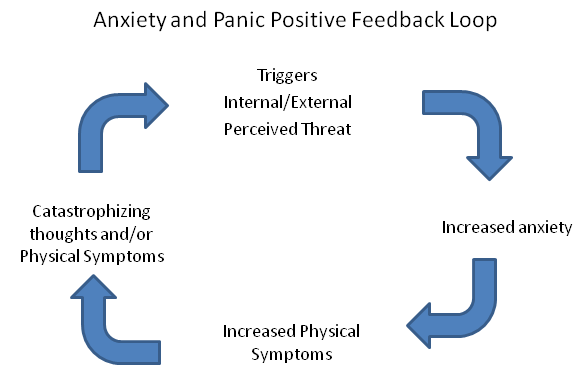 Constant high anxiety
When I found that my living conditions were stressful I had no opportunities to off load, other than going to work. I was not allowed out on my own and I had to contact my partner at least three times a day when I was at work (sometimes I had to include a photo so she could see I was in uniform). I had no opportunity to relax or de stress. Also, I couldn't socialise with friends or family and so had no escape from the captivity I found myself in. What was worse was that a home should be a haven yet it became my prison.
However, what I found once I had left was that the same levels of anxiety still existed. I had learnt that following the lack of support I had received, and the lack of help from the authorities the world is a dangerous place. I felt vulnerable and often experienced nightmares. In effect, the life I had led remained after leaving the environment. Now, I have become accustomed to the feelings of fear and vulnerability even though I was no longer living under that regime.
Further research found that people who are exposed to any form of abuse or persecution, tend to develop extreme social anxiety, or/and stress related illnesses. Sadly they can also develop confusion over their own identities.
Lasting effects
Emotionally abused people can experience post-breakup symptoms similar to post-traumatic stress disorder (PTSD).
I worked out I had PTSD after taking a walk one afternoon.  I heard a song that she used to like and my mind was rushed back to a moment I heard it in the kitchen. This time in the kitchen was when she said she was going to have me killed. Other occasions also cause PTSD such as smells, colours and even types of cars. My mind would associate these 'items' with periods of stress and unhappiness. As a result it took me a while to try and do normal things like listen to certain songs. Even shop in certain supermarkets. I no longer visit certain places, not only for the fear of bumping into her but because these places have so much association with the cause of my problems.
Anxiety has left me hesitant although I am able to often hide it well. My anxiety has taught me to be even more suspicious of authority or kind actions by others.
I know that this will be overcome. It has to. I have a lot of support in place and I have created nice, easy personal goals to give me a level of achievements of which to reflect upon. The abuse left a long dark shadow that created, depression, PTSD and anxiety. With enough light and reflection this shadow will recede and I will be able to replicate the person I eventually want to be.